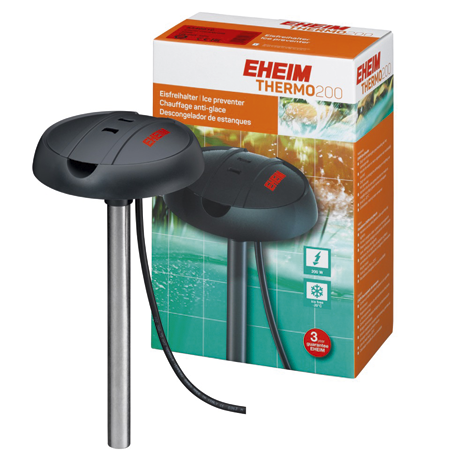 Eheim has brought out a new ice preventer to stop pond surfaces from freezing over.
The new EHEIM THERMO200 ice preventer prevents the pond surface freezing over (up to -20°C /-4˚F). It is an unbreakable, stable stainless steel heater, has an output of 200W, a 10m-long mains cable and is fully safeguarded (TÜV/GS, CE).
A spokesman said: "The EHEIM THERMO200 looks like a 'heating mushroom'. The 'cap', with a diameter of 160mm, floats on the water or ice surface, and the heater (approx. 30cm long) forms the 'stem' which stabilises the horizontal position under the water.
"It is best to place the ice preventer in the middle of the pond as this allows the heat to spread evenly in all directions, resulting in the largest possible radius of ice-free water surface.
"The fermentation gases can escape through the ice free pond surface and vital gas exchanges can still take place, ensuring biological self-cleaning and detoxification of the pond water is maintained and fish and microorganisms are supplied with oxygen."