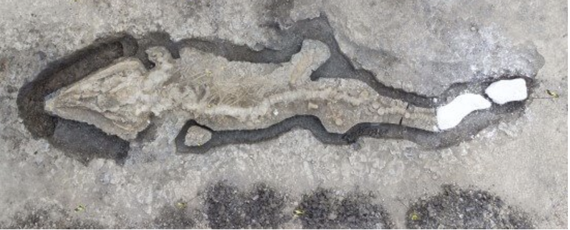 The fossilised remains of a large ichthyosaur, colloquially known as a 'Sea Dragon', has been hailed as the most complete fossil of its type ever found in Britain.
The 180 million years old fossilised skeleton, which measures around 10 metres in length with a skull weighing approximately one tonne, was discovered at the Rutland Water Nature Reserve, owned and run by Anglian Water. It is the biggest and most complete skeleton of its kind found to date in the UK and is also thought to be the first ichthyosaur of its species (Temnodontosaurus trigonodon) found in the country.
Ichthyosaurs first appeared around 250 million years ago and went extinct 90 million years ago. The marine reptiles varied in size from one to more than 25 metres in length, and resembled dolphins in general body shape.
The ichthyosaur was discovered by Joe Davis, Conservation Team Leader at Leicestershire and Rutland Wildlife Trust, who operates the nature reserve in partnership with the water company, during the routine draining of a lagoon island for re-landscaping at Rutland Water in February 2021.
The fragile remains were excavated in August and September 2021 by a team of expert palaeontologists assembled from around the UK, in partnership with Anglian Water, Rutland County Council and the Leicestershire and Rutland Wildlife Trust.
Anglian Water is now seeking heritage funding to preserve the remains and ensure that it can remain in Rutland where its legacy can be shared with the general public.
Details of the excavation featured on BBC Two's Digging for Britain programme earlier this month and are available on BBC iPlayer.