With growing interest in planted tanks, hobbyists are always on the look-out for what's new or different in the hobby. Aquadip's Joey Abrahams has hints of what retailers can stock
Marsilea (Water clover)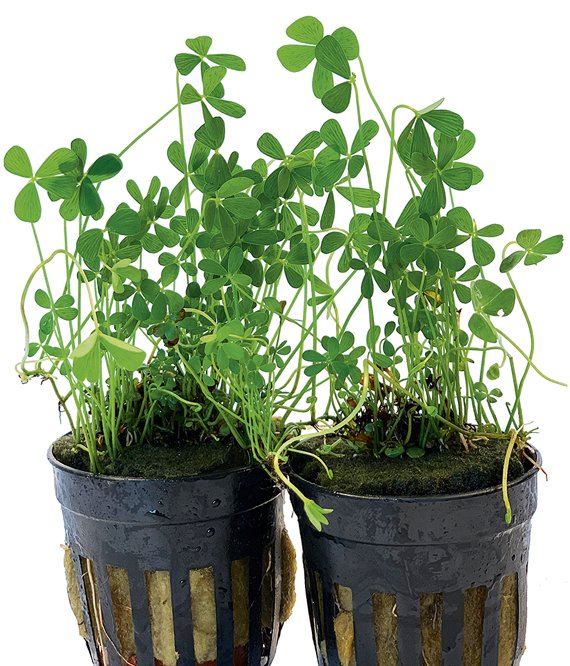 I would like to introduce the Marsilea species, an aquatic fern that doesn't look like a usual garden fern, but instead resembles a four-leaf clover! As a traditionally 'lucky' symbol I thought it would be a good plant to focus on during these difficult weeks.
It is an ideal foreground plant as the maximum size is just 6cm, so it can easily be used as a nice carpet-growing plant. However, you do have to be very patient as it doesn't grow very quickly. If you would like to grow it as a carpet, the ideal way to begin is to take a few pots and divide them across the substrate.
Most carpet plants grow quickly and need trimming often – that won't be the case with this little plant, which may be a big bonus for many aquascapers!
The Marsilea species is not a big challenge to keep. At Aquadip we have it listed as a 'medium' care plant, but that refers more to the nutrients it requires than to the amount of regular tending it needs. It prefers medium (medium-high) light intensity and a water temperature between 20-26C and the pH value needs to be kept between 5 and 7.5). Nutrient requirements include either a CO2 system or a liquid carbon source such as our new-to-launch product (due in May) AQUADIP Liquid Carbon.
When all conditions are met, you will notice dense carpet growth – but be patient – and dark green coloration in the four clover leaves. When the conditions are not ideal you will see the plant begin to grow vertically and it will become less dense.
If this is the case then just check your setup. Is the light sufficient, are there enough macro- and micro-nutrients in the water and is the CO2 dosage correct?