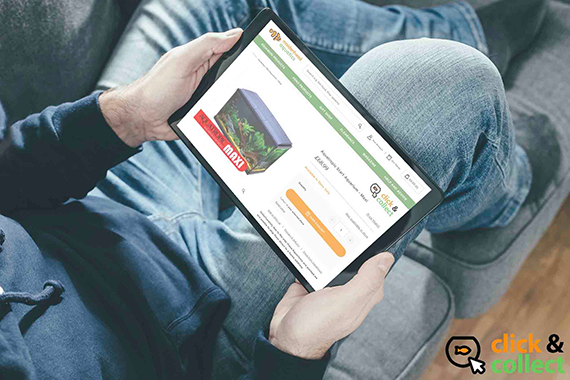 Maidenhead Aquatics has launched a new Click and Collect service, bridging the gap between traditional retail outlets and its website.
Customers can now take advantage of 24/7 browsing and access to information about store stock availability, while also being able to enjoy the benefits associated with the traditional in-store retail experience and expert knowledge offered by Maidenhead Aquatics store teams across the country.

The fishkeeper.co.uk website already offers an online shopping experience for customers of Maidenhead Aquatics who like to shop online but the business is aware that many of its customers still like to research products on the website and then visit a store to make their purchase, experience the products in real life and speak to the fishkeeping experts in the store.
Click and Collect means that for these customers, there is no longer the risk of an item they are interested in being out of stock and them making a wasted journey.
In addition, the business has received requests by its customers to make store stock information available online and this is what the new Click and Collect option makes possible even if the customer would prefer not to buy online at the time of browsing.
Maidenhead Aquatics recognises that since the pandemic started buying behaviour and consumer preference has shifted and the company hopes this new service will help meet the shifting priorities of its existing customers as well as attracting new customers who may not previously have shopped with them.
"We're extremely excited to be able to offer our customers this new way to shop with us," said senior partner Stuart Ashley.
"Our Click and Collect facility really bridges the gap between our online and bricks and mortar stores, allowing browsers to identify exactly what's available in our stores at any one time, along with making any purchase easy and convenient.
"Being the only specialist aquatic retailer with a nationwide reach, means we can genuinely offer a unique service to our customers, and help to bring our business into the 21st century."