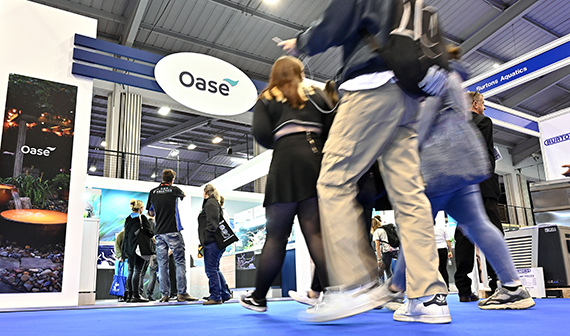 AQUA, the market-leading showcase for the UK's aquatics and water gardening industry, will be returning to the Telford International Centre on Wednesday 11th and Thursday 12th October, 2023.
Following a successful event last month, the biennial exhibition is set to again attract the major companies in the trade, who acknowledge the importance of exhibiting their products and services to aquatic and garden centre retailers, all under one roof.
Preparations for the 2023 event are underway and the organisers have already received enquiries from companies seeking to rebook their exhibitor stands, with some firms requesting larger spaces next time.
PM Aquatic Imports is thinking of taking an even bigger area in two years thanks to the success of this October's event, with the company's Jeremy Gay saying: "This show is the best place for aquatic companies to network and develop more business."
More than 50 suppliers showcased an impressive line-up of new products at AQUA 2021 in front of a two-day audience of 1,074 retailers and buyers last month. Although the attendance figure was down on the previous event, both exhibitors and visitors agreed the event had been a huge success for the aquatics and water garden industry.
Companies like FishScience revealed it was the company's best exhibition to date. "We received more orders and leads than at previous shows," said founder David Pool.
It was a similar story for Aquatic Now, whose chief marketing officer Craig Timms commented: "The organisers did a great job in putting on the show. Thank you for all of your help which resulted us in having our best-ever show."
And Mark Walsh, of Platinum Reef Products Ltd, agreed. "It was a great event in difficult circumstances."
Retailer Lynne Henbury, of Kettering Koi & Ponds Ltd, revealed why she thinks AQUA continues to be so popular. "It's great to see so many aquatic suppliers all under the one roof – it's definitely worth visiting. We introduced ourselves to some potential new suppliers during the exhibition, and then enjoyed some great networking at the after-show drinks reception with current suppliers. We will definitely be attending again in 2023."
Patricia Dunlop, of Fish and Bits, said: "I absolutely love this show, and it felt safe especially with Covid around," while Chris Reynolds, of Landscapeplus Ltd, commented: "It was a great show as always."
Other AQUA 2021 visitor feedback included:
> "Clean, easy to move around, great staff, great show."
> "Great to see so many people within the industry in one place safely."
> "Great day – no further comment needed."
> "A very friendly relaxed atmosphere"
> "Fantastic!"
For all the latest information and news on the next AQUA show in 2023 visit www.aquatelford.co.uk