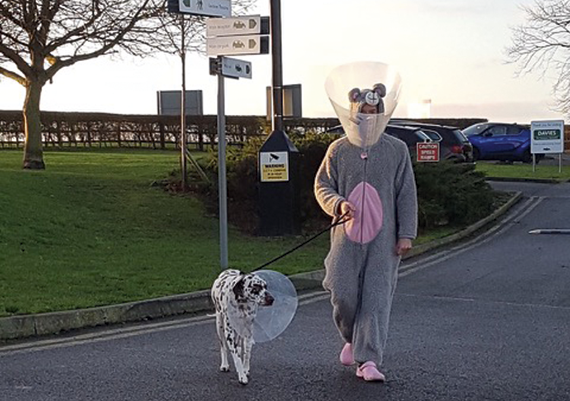 A vet has dressed up as a giant mouse to calm the nerves of a rescue dog with anxiety problems.
Rupert, a rescued Dalmatian, needed surgery for hip dysplasia and cruciate ligament problems.
Owner Sonya Schiff said: "When I adopted Rupert from Dogs Trust a couple of years back, he had some quite serious guarding issues and aggression which we believe were pain associated."
She thought Rupert might be more comfortable with the scent of home when he was admitted to Davies
Veterinary Specialists in Hitchin, Hertfordshire, so she packed her furry mouse romper suit for her devoted pet to sleep on because it smelt of her and he loved it.
Rupert wasn't keen on being examined so Mike Farrell, orthopaedic specialist at the hospital, went the extra mile to make him feel at ease. He decided to see if Rupert would be less anxious when faced with a giant fluffy mouse rather than a scary vet, so he donned the furry outfit before examining Rupert.
He was able to examine Rupert safely and then perform the surgery.
Sonya added: "This just shows how creative vets can be. Thanks, everyone at Davies, especially Mike, for the care and the laughter!"