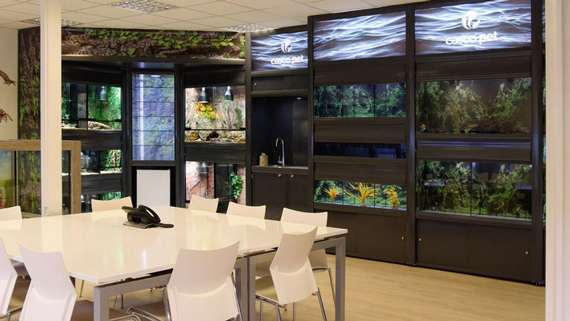 Global pet retail display business CASCO Pet has refitted its UK showroom and is inviting the trade to have a look – either in reality or 'virtually' via a promotional video on the company's YouTube channel, CASCO Pet.
"We have some big changes at the CASCO Pet UK showroom," a spokesman said. "We have been working on a showroom refit and we are pleased to announce it's now complete. We welcome visitors to all our showrooms, so please contact us to arrange a visit to your nearest location."
The showroom, in West Sussex, features all the company's latest innovations, including CASCO's patent-pending CASCOPurge filter, CASCOPure balls, and Smart flow pumps.
HEALTHY ANIMALS
A spokesman said: "We know our products work and our healthy live animals in our showroom confirm this. The live animals are a true representation of how the animals should be kept when in retail environments."
The UK showroom was also designed with office life in mind, giving CASCO space for meetings as well as having a relaxing place for screen breaks and lunchtimes.
"Of course, the showroom is not just for staff. It is a professional space for meeting prospective ad retained clients, as well as displaying the very best features of our pet retail installations. This redesign is truly setting an example for the kind of customer journey we can create in your pet store."
CASCO provides superior shop equipment to display a wide range of livestock. From small animals, tropical and marine fish, to exotic birds and reptiles, the company designs and installs fixtures to attract new customers.