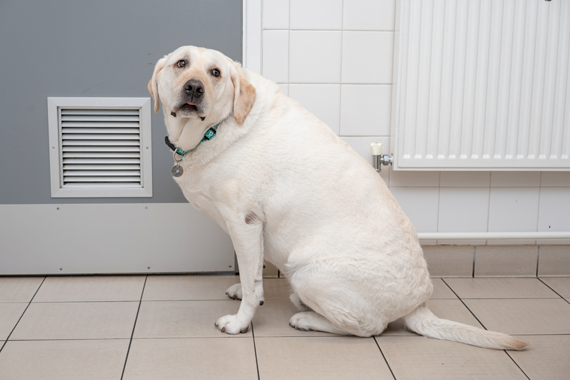 Vet charity PDSA is urging pet owners to #WeighUp their pets health and wellbeing during National Obesity Awareness Week (January 10-16).
The PDSA's #WeighUp campaign, which is sponsored by Royal Canin, is urging owners to take steps to combat weight-related issues with their pets.
A study of more than 4,500 pet owners by YouGov on behalf of PDSA found that the equivalent of 1.4 million pets have been fed more human treats since the start of the coronavirus pandemic. At the same time, many dogs were walked less frequently than pre-pandemic, with 38% leaving the house just once a day, compared to 33% in February 2020.
According to owners who said their pet was overweight, the most common factors preventing their pet from losing weight were: giving in when their pet begs for food (29%), they like feeding treats to their pet (19%), their pet is fussy with food (19%), and they feel giving treats shows how much they love them (15%).
PDSA Vet Nurse Nina Downing said: "Although some owners may think their chubby pets look cute, being overweight is a major red flag when it comes to their wellbeing. Overweight animals have a much greater risk of developing health problems such as arthritis and diabetes – which can have drastic consequences, even shortening their life by up to two years.
"As we enter a new year, many of us will be turning our attention to how we can improve our own health and wellbeing – and we should pay our pets the same care. Long-term, the best thing you can do for your furry friend is to encourage healthy habits, helping them live an active and happy life."