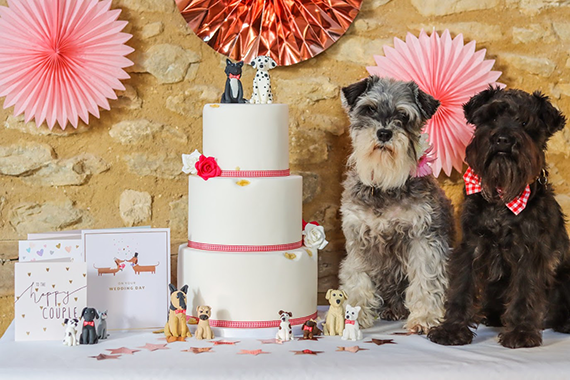 Picture: by Charlotte Rebecca Photography
Feast It, the UK's largest events planning company, has seen a rush of couples desperately trying to find a date to tie the knot this summer.
But if you thought the Summer of Love was limited to humans, you'd be wrong. Dog weddings – or 'mutt-rimonials' – will be in such demand this summer that Feast It has partnered with award-winning fresh raw dog food business Poppy's Picnic to launch the UK's first dedicated wedding planning service for dogs.
Woof Weddings, which will be operating out of HoundQuarters, Wiltshire, from today (April 1) is providing services such as tennis ball bouquets, confetti made from edible Super Sprinkles and premier grooming packages for canine nuptials.
Poppy's Picnic, with its extensive range of fresh foods including Tasty Broth, Wild Boar Power Balls and Tasty Venison Bites, will cater for these much-anticipated events. While the range of services is diverse, the company has stated categorically that fireworks will NOT be available!
LOCKDOWN
Feast It co-founder Hugo Campbell said: "We've had a surge of dog owners writing in to tell us how the year of lockdown and socially distanced walkies has forced many loved up pooches into long-distance relationships. They've been asking themselves 'Howl I live without you?' and now there's a timeline back to normality, they just want to tie the knot, and who are we to stop them?"
The evidence for the rise in doggy weddings is beyond compelling. In a survey of two dogs carried out by Feast It and Poppy's Picnic, which they are referring to as the Daisy Fora Poll, 100% barked enthusiastically when asked if they were looking to get married in 2021.
With more than 12 million mutts in the UK, that's a lot of doggy weddings over the coming years and is set to dwarf the 500,000 human weddings expected to take place this summer. Feast It and both Poppy's both vehemently deny the result had anything to do with the fact that they were holding multiple treats at the same time as asking the question!
Poppy's Picnic founder Dylan Watkins added: "As a nation of dog lovers, mutt-rimonials is the obvious progression for our four-legged friends.
MAGICAL
"We've created a range of meals and services that will not only celebrate this wonderful union of tails, but also put a smile on the face of their two-legged guardians. From a sneaky bum sniff, to a leg up and a piddle over a pew, we will make sure that it is a magical day for all."
The first wedding will take place on June 21, with Poppy, chief dog at Poppy's Picnic, marrying her long-term partner, Gary the Schnauzer. Both will be hoping there are no paw-ful objections and, when prompted by the priest (who will be wearing a real dog collar), the groom will sniff the bride.
Travel resrtictions permitting, the honeymoon is currently planned for Ao Island in Japan, also known as Cat Island, where they plan to spend a romantic week before returning to their home on the Isle of Dogs.