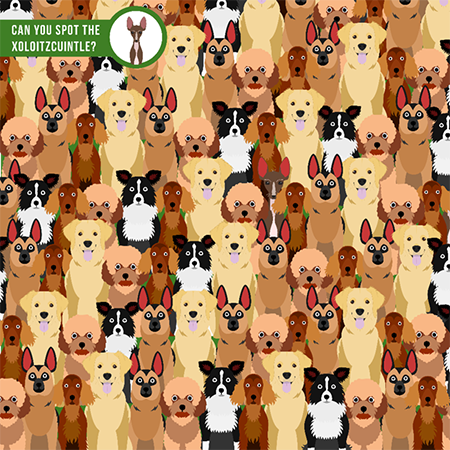 A new brainteaser has dog-lovers chasing their tails, with the average person taking 24 seconds to find the lesser known xoloitzcuintle among the well-known breeds, cockapoo, border collie, German shepherd, cocker spaniel and Labrador.
The brainteaser was created by raw and natural pet food brand Natures Menu to celebrate National Dog Day (August 26).
The xoloitzcuintle, or xolo, is pronounced 'show-low-eats-queent-lee'. More commonly known as a Mexican hairless dog, xolos are known for their lack of hair and inquisitive temperament.
James Langan, managing director of Natures Menu, said: "With the number of people owning dogs increasing since lockdown began, we have discovered the UK's most popular dog breeds and which are the most unusual. While many people have opted for a cockapoo, border collie, cocker spaniel or Labrador, we have also seen some unusual dog breeds joining new pet parents, according to research from the Natures Menu database – affenpinscher, akbash, Bolognese and even a xoloitzcuintle.
"We wanted to create a light-hearted brainteaser to provide Brits with a challenge – and who doesn't love looking at dogs?"
Recent research from Natures Menu reveals that not only has the number of dog owners increased since March 2020, but more than two-thirds of pet parents believe their pooches are happier now than they were before lockdown began.