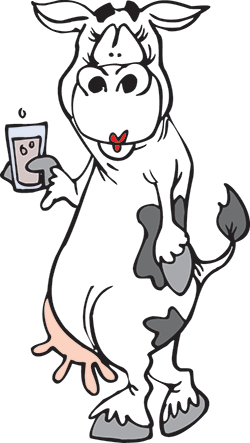 A pair of unruly pet cows have been caught red handed after breaking into a house, trashing the furniture and defecating on the carpet.
According to a report in the Daily Mail, Chelsea Hingston returned to her Tasmanian home after dropping her daughters at playgroup to find the doors wide open and debris scattered across her living room.
Chairs and pot plants were knocked over, clothes and blankets damaged, and books, toys, pieces of paper, and piles of manure were strewn across the carpet.
And, after tearing the house apart, the two intruders – named SOB and Bandit – refused to leave so were found at the scene of the crime.
"I was horrified and in denial," she told Daily Mail Australia.
The mother-of-two said the fence to the cows' paddock was damaged the night before when a tree fell during a storm.
"My partner and I had only purchased the home in December so to say our hearts broke when we saw inside is an understatement," she said.
Chelsea said the estimated damage of SOB and Bandit's escapade was more than $15,000. But, despite the devastating financial toll, she said the family was able to see the funny side of the bizarre situation.
"It's hilarious now," she said.