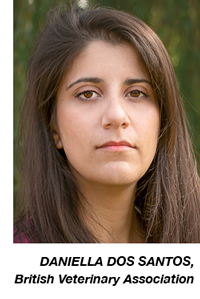 The British Veterinary Association has this afternoon issued advice for pet owners after it emerged that the virus responsible for covid-19 had been detected in a pet cat in England, in the first known case in the UK.
A statement issued by Defra today said the infection was confirmed after tests at the Animal Plant Health Agency laboratory in Weybridge last week.
A private vet diagnosed the pet with feline herpes, a common respiratory infection in cats, but the sample was also tested for the SARS-CoV-2 virus as part of a research programme. Follow-up tests at the APHA laboratory confirmed that the cat was simultaneously infected with this virus.
FULL RECOVERY
The Government has emphasised that all available evidence suggests that the cat contracted the coronavirus from its owners, who had previously tested positive for covid-19. The cat and its owners have since made a full recovery and no other animals or people in the household were affected.
Staff at the veterinary practice where the cat was treated were aware of the household's covid-19 status and were not impacted by the virus.
Responding to the news, BVA president Daniella Dos Santos said: "While pet owners may be worried by this news, we'd like to emphasise that there continues to be no evidence that infected pets can pass covid-19 to their owners. There have been a tiny number of cases of covid-19 in domestic animals worldwide and in all cases, it appears likely that the transmission was from infected humans to animals.
"We have been in touch with vets in Government and the local veterinary practice for information and have been informed that the cat only showed mild clinical signs and has since made a full recovery.
"Our advice to pet owners who have covid-19 or who are self-isolating with symptoms remains to restrict contact with their pets as a precautionary measure and to practise good hygiene, including regular handwashing.
"We also recommend that owners who are confirmed or suspected to have covid-19 should keep their cat indoors if possible, but only if the cat is happy to be kept indoors. Some cats cannot stay indoors due to stress-related medical reasons.
"It is also the case that animals may act as fomites, as the virus could be on their fur in the same way it is on other surfaces, such as tables and doorknobs. That's why good hand hygiene remains important."