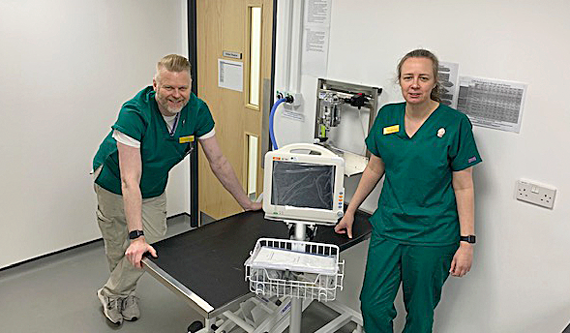 Valley Vets Chris Butler and Claire Ashworth
An emergency veterinary hospital destroyed by Storm Dennis in February is celebrating its first anniversary after a tumultuous year.
Just seven months after opening, Valley Veterinary Hospital near Cardiff was devastated by Storm Dennis – a major disaster that saw vets, nurses and 16 in-patients evacuated by fire crews in the middle of the night with the hospital under five-feet of flood water after the River Taff burst its banks.
Then, after a frantic rush to complete the rebuilding work, the hospital re-opened just as the UK went into lockdown in March with strict social distancing guidelines in place.
Nonetheless, the veterinary hospital has been able to act as a central hub for handling emergency cases from across South Wales.
MAD DASH
Joint hospital manager Chris Butler said: "The builders were three-quarters of the way into the rebuilding project when the pandemic kicked in so it was a mad dash to get it completed.
"As a busy emergency hospital, the last few months have been extremely challenging as we need to handle urgent cases while keeping everyone safe.
"Having the hospital open again has been a lifesaver for the 35 surrounding practices we serve during the pandemic because many practices were struggling and referring cases during the day as they didn't have usual staffing levels."
With new operating theatres, procedure areas, two prep areas and kennels on the first floor and a new £150,000 CT scanner installed in June, the hospital expects to be fully functional again by the end of the year.