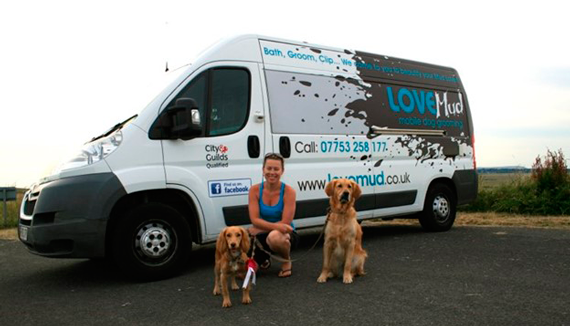 LoveMud Mobile Dog Grooming has been named Best Dog Grooming & Pet Care Service – East Sussex by SME News in the 2021 UK Enterprise Awards.
Founded by Caroline Donoghue in 2012, the business has grown from strength to strength, with no plans to slow down. 'LoveMud' mobile dog grooming is a fully equipped mobile grooming salon which visits clients in and around Brighton.
Caroline, who is City & Guilds qualified and has eight years grooming experience, believes grooming should be as stress free and enjoyable for the dog as possible.
She doesn't use restraints (unless required for safety) and uses positive, reward-based training techniques throughout the process. She believes it is this approach that has made her business so successful.
"I'm absolutely thrilled to have won this award," she said. "I treat every dog as I would my own and I love what I do. I have customers from all over Brighton & Hove, but some even travel over an hour to see me because of the way I work and the relationship I have built with their dogs."
Caroline has a new TikTok account, where she showcases the way she works and has more than 60,000 subscribers from all over the world and ahs clocked up six million video views in just three months.
"I started filming live grooming videos in February as I believe the grooming industry should evolve," she said. "There's a need for industry regulation and I see a gap in the understanding of canine behaviour, for the safety of both the groomer and the dogs, and I feel my videos help to bridge this gap."