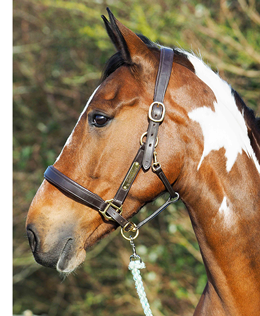 New research published in 'Equine Veterinary Education' – a journal of the British Equine Veterinary Association – that examines the use of headcollars on horses and any associated safety issues has exposed 'worrying' statistics.
While it is generally accepted that horse riding carries certain risks, the latest findings underpin the potential hazards for horses and humans associated with handling horses on the ground.
The online survey was conducted by equine scientist Dr David Marlin, Dr Jane Williams, head of research and associate professor at Hartpury University, and Dr Kirstie Pickles, clinical assistant professor in equine medicine, University of Nottingham. It was carried out last year and revealed that a third (31%) of the 5,615 respondents had experienced a horse being injured as a result of wearing a headcollar, with 15% of respondents reporting an additional injury to a person.
In addition, 134 headcollar-related incidents were referenced resulting in a horse sustaining a fracture, while a staggering 167 equine fatalities were attributed to headcollar usage. The risk of an injury increased by 70% when horses were tied up although 20% of incidents occurred while horses were turned out.
The frequency of injury was highest among owners using webbing headcollars and lowest amongst those opting for a leather product. The use of either leather or synthetic safety headcollars significantly reduced the likelihood of injury.
More studies are required on this subject and the trade is hopeful that further research will be undertaken relating to headcollar function, leading to industry-approved guidelines for headcollar fit and use.