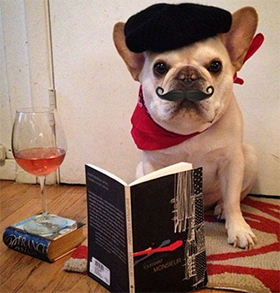 Language learning company Rosetta Stone is urging dog owners to communicate with their pets in their native tongue for International Dog Day today (August 26).
The foreign language specialist is launching a free-to-use programme to help animal lovers across the UK to teach their pets to be multilingual – maybe teaching French to a French bulldog or German to a German shepherd?
The programme will include some of the top dog-friendly commands, including sit, stay and leave, in ten languages. It also includes audio recordings for dogs and their owners so they can finesse their new found foreign tongue together.
Joe Nutkins, main instructor at Dog Training in Essex & Suffolk, has been working with dogs and their owners for more than 15years.
He said: "A quarter of the dogs I see are now coming from foreign countries such as Romania and Spain. Perhaps this is due to a recent increase in campaigns such as #AdoptDontShop, which urges wannabe dog owners to avoid frequent breeders and puppy farms in favour of giving a rescue dog a forever home.
"But bringing dogs over from other countries or regions can make communicating with them difficult. Even regional dialects across the country – from Glaswegian to Geordie or Welsh to West Country – can really make it difficult for pups to comprehend what's being said."
Joe is joining Rosetta Stone on International Dog Day to explain the best way to teach pups to #BarkFluently, and why joining dogs in learning their native tongue could be the best bonding exercise.
For the free dog commands, visit: www.rosettastone.co.uk/dogday