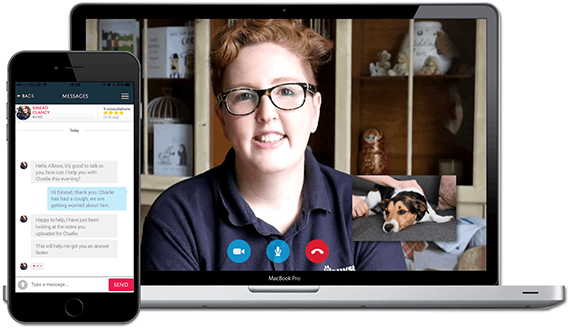 Veterinary telemedicine provider PawSquad has joined the European Veterinary Group IVC Evidensia.
PawSquad, founded in 2015 by serial entrepreneurs Diwaker Singh and Radu Georgescu, pioneered online veterinary consultations by video and live text chat in the U.K. Leading veterinary healthcare provider IVC Evidensia operating in 12 countries across Europe. PawSquad will continue to operate as an autonomous entity within the IVC group.
PawSquad CEO Dr Mark Boddy, a veterinary surgeon, said: "Our network of experienced veterinarians has already helped many thousands of pets in the UK, providing medical advice, emergency triage and preventive health plans. Being part of IVC will allow us to help even more pets and to continue to work positively and collaboratively with the veterinary profession, as well as expand geographically."
Stuart Caton, chief commercial officer at IVC Evidensia, added: "Telemedicine will support the efforts of the group to make high quality veterinary care more accessible to pet owners, lowering the barriers to engagement with the veterinary profession. It's an excellent acquisition that will further complement the group as pet services grow and evolve in the future. We are delighted the entire PawSquad team will continue with the business supporting their corporate and private clients as before."
ADVICE
The PawSquad service encourages pet owners to seek professional advice earlier and more frequently, with around half of all queries being referred for necessary in-clinic follow-up and otherwise providing reassurance and peace of mind.
PawSquad chairman and founder Diwaker Singh said: "We are pet lovers and launched PawSquad with the objective of making sure that pet owners have instant 24/7 access to quality pet care, accessible from their homes…The service has grown significantly, confirming there is a clear need for this service. IVC Evidensia's extensive network will help the business strengthen and grow to even greater heights."
PawSquad's corporate customers and partners include several leading companies in the pet care industry such as Direct Line Insurance and veterinary charities Blue Cross and the PDSA.
Dr Boddy notes that for pet owners and PawSquad's corporate customers, it will be business as usual post acquisition. He said: "We will continue to provide pet care advice and serve the needs of pet owners regardless of the vet practice they currently visit – the service is open to all and available 24/7 with no prior appointment necessary. Whether it's a general pet care question, a specific medical concern or an out of hours emergency, we're always here for pets and those who care for them."