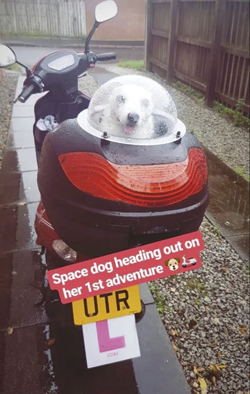 A dog has become an Internet sensation after catching a ride on a redesigned moped carrier.
Kirsty MacDonald, from Dumfries, Scotland, was left devastated when one of her two jack russells died while she was away on a family holiday.
She told the Scottish Daily Record: "Ever since her brother, Buddy, passed away, Missy's not been herself.
She can shake quite a bit. I bought a bag she could sit in when I was on the moped and I noticed she would stop shaking and she enjoyed the ride. But I wanted to get something a bit safer."
Kirsty asked her dad, Ian, a retired factory supervisor, to make a contraption to encourage Missy to get outside.
He bought a dome from eBay and cut a hole into it with a knife, which was just big enough for Missy's head. He then fastened it to the back of Kirsty's moped.
Kirsty's son, Corey, shared a photo of Missy in the new contraption – which people have described as a spaceship – on Twitter. The tweets have since gained more than 36,000 likes and nearly 4,000 retweets.
"OMG we need one of these for our puppers!!!" wrote one Twitter user.
Kirsty said: "I can't believe the reaction to the photo. So many people have seen Missy and it just makes me so happy. It's made me laugh every single day when someone else shares it. It's cheered me right up, it's amazing."