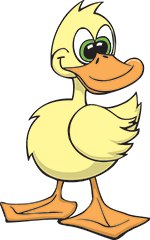 A duck has had to have its penis removed after injuring it by being 'over-amorous'.
The duck's owner, Josh Watson, says the bird was mating with its female companions, Dora, Edith and Freda, up to 10 times a day.
As a result, the duck, named Dave, injured itself and also contracted an infection. He was prescribed antibiotics, but kept trying to have sex. In the end, vets decided to make Dave more comfortable and removed his manhood.
The bird is still able to urinate following the procedure, reports the Mirror Online.
Josh, who lives in Torquay, Devon, said: "He doesn't stop throughout the year. Over winter [after the mating season] he's meant to calm down. The ducks stop laying eggs but he doesn't stop mating. He just carries on."
Sonya Miles, the vet that operated on Dave, said that while he will no longer be able to successfully breed, the operation will not have much impact on the duck's future. "He'll definitely still try to mate. It's not going to stop him."