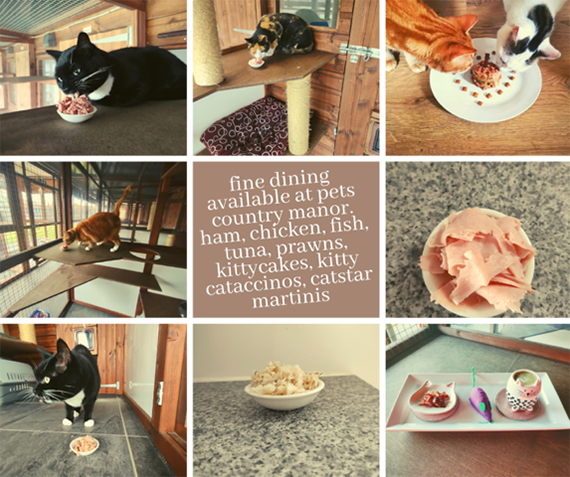 A luxury cat hotel where feline guests can enjoy sunset views and heated en-suite rooms has taken to adding an extra layer of luxury to entice customers back after covid.
The Liverpool-based business has added Pawsome Afternoon Tea and Kitty Cattacinos to its offering for pampered pets, after struggling with a dramatic drop off in sales since the beginning of covid.
The Pets Country Manor, based in Knowsley, Merseyside, is owned by Victoria Corcoran and Craig Hailes. The pair say the five-star luxury country cattery is always fully booked between the months of April-September with over 150 cats to look after each day. However from March until August they had virtually no customers.
Victoria said: "With pet care being classed as essential we have remained open throughout the pandemic in order to look after the cats of people who may have gone into hospital, or NHS or other key workers needing to work longer hours, but we've had no uptake on our services.
"From August things have slowly started to pick up but we are still only at 70% capacity of where we normally are at this time."
In order to try to increase sales the pair have come up with a number of luxury upgrades. Their Pawsome Afternoon Tea is served on a raised bamboo dining table out of china dishes and includes photos of the beloved pet enjoying the feast on Facebook.
Other upgrades includes Kitty Cataccinos and YourCatsAStar martinis, which include a side order of chicken strips, mini fillets and a catnip toy mouse. Daily interactive ipad entertainment, fine dining, kitty cupcakes, puddycat puddings, homemade tuna-flavoured ice pops, water fountains, orthopaedic four poster beds and room upgrades of up to 400 sq ft have also been added to the list of delights.
Craig said: "The luxury upgrades are going down a storm, with at least eight out of every 10 customers opting for them. The most popular seem to be the Pawsome Afternoon Teas and the room upgrades."
The Pets Country Manor has received numerous awards including a Pet Industry Federation award in 2014. It has also represented the North West on behalf of the Princes Trust, meeting HRH Prince Charles for the occasion.
Each room at the Pets Country Manor has a sunrise or sunset view from its panoramic window, a floor-to-ceiling five-tier climbing wall, heated en suite bedrooms and large fully equipped playroom with scratching posts and toys.
Victoria said: "The additional luxury holiday upgrades that we started offering last month has really helped and given our business a much needed boost. In July this year we won the best cattery in the north west at the SME news UK enterprise awards."
Now with talk of a second wave and further lockdowns the pair are hoping their additions will help to encourage more bookings, especially around the Christmas period, which is usually a busy time for them.