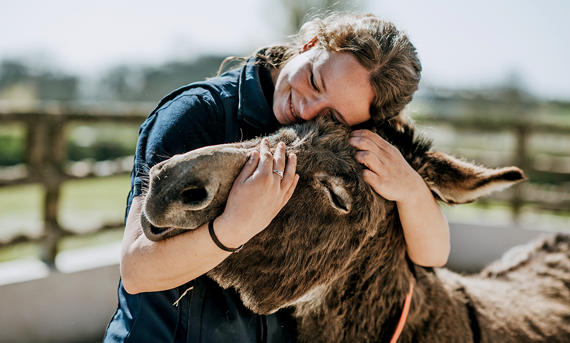 Donkeys are one of Britain's favourite animals – even though more than half of people believe they are stubborn, a study has revealed.
A YouGov poll for international animal welfare charity The Donkey Sanctuary found that donkeys were Britain's second favourite farm animal.
Unlike horses, who topped the poll with (24%), donkeys (17%) are not native to Europe, yet the British public still hold them close to their hearts.
Donkeys have long suffered an unfair reputation, according to the donkey charity, and this was borne out in the poll results, with 55% of people quizzed wrongly believing they were stubborn.
But donkeys are highly intelligent animals, The Donkey Sanctuary's animal behaviourist, Ben Hart, explains: "The donkeys' stoic nature, minimal body language, and their natural propensity to freeze when threatened or frightened, combined with a reluctance to put themselves at risk, results in donkeys commonly being mislabelled as stupid or stubborn. I believe anyone that calls a donkey stupid, has simply been outsmarted by one!"
IMPORTANT ROLE
Encouragingly, the research also found that 89% of people are aware that donkeys carried out an important role in helping communities around the world.
A Donkey Sanctuary report published last November stated that 500 million people in the world's poorest communities still rely on working donkeys as a lifeline to support their livelihoods.
Mike Baker, CEO at The Donkey Sanctuary said: "It's great to hear that people understand just how important donkeys are. Owning a working donkey means survival for some of the poorest and most vulnerable communities in the world. They enable their owners to participate in work and boost economic capacity.
"They help enable children to receive an education and help promote gender equality by allowing women to be economically active. The role of these hardworking animals is vital and their status should never be underplayed."
The Donkey Sanctuary launched a myth-busting campaign yesterday (Bank Holiday Monday) called #donkeysdebunked to champion the animals and help reverse their 'unfair reputation for being stubborn'.