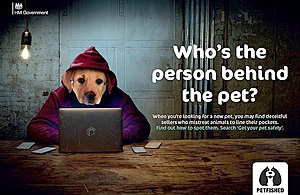 The Government has launched a new campaign urging the public to beware of unscrupulous pet sellers.
The campaign warns against the practice of 'Petfishing', where deceitful pet sellers create a fictional online persona or environment from which to sell animals – usually puppies and kittens.
They often pretend the animals have come from happy family homes whereas the reality is that they may have been bred and kept in poor conditions – with all the accompanying health and welfare issues this brings.
The 'getyourpetsafely' campaign was launched by Defra on March 2. It includes advice on how and where to source your pet, a step-by-step checklist and points to consider when rescuing or rehoming an animal.
One piece of evidence showed that buying a pet from a low-welfare breeder could result in up to £5,000 in extra vets' bills.
The government's chief veterinary officer Christine Middlemiss said: "I can't stress enough the importance of doing research before buying a puppy or kitten. Being tricked into buying a seriously ill puppy or kitten is more common than you think.
"We want new pet owners to make the best possible decisions where they are truly informed about what they are purchasing to avoid unscrupulous sellers. Familiarise yourself with cagey behaviour. Warning signs such as a seller's unwillingness to answer questions or provide legitimate medical documentation could lead to a host of illnesses and even premature death for your pet.
"It's important to report suspicions of UK puppy farming or low-welfare kitten trade activity to the RSPCA and avoid the temptation to save the pet yourself. By turning down a low-welfare raised pet you are helping to stop this cruelty once and for all."
For more information visit getyourpetsafely.campaign.gov.uk