East Sussex-based 'LoveMud Mobile Dog Grooming' has become one of the fastest growing dog grooming accounts on TikTok this year.
After owner Caroline's success on winning two national awards – 'Pet Care Company of the Year 2021 East Sussex' by SME News Southern Enterprise Awards 2021 and 'Pet Care Specialists of the Year South England Prestige Awards' – LoveMud Mobile Dog Grooming has continued to be a hit in the online world.
The business has attracted one million views for a single video on TikTok.
Caroline said: "I am so proud of hitting these three milestones in one week on TikTok.
"It's awesome that so many people are tuning in and enjoying my content, and hopefully I'm helping to educate dog owners and new groomers. People from all over the world are watching, including viewers from Australia to the Philippines. What a journey my business has been on since I launched in 2012."
When asked what's next for 'LoveMud' Caroline said: "Products and collaborations – I'm in the process of working on some exciting ideas so watch this space."
Caroline shares regular content on her TikTok channel, 'lovemuddoglady', including tips and tricks for dog grooming, as well as airing live dog grooms so that the owners can see how their dog is doing.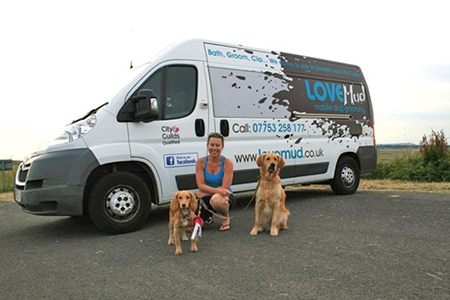 Caroline with her own dogs, Spaniel Lolly Dog and the late Milo who was her inspiration behind the unique LoveMud business name