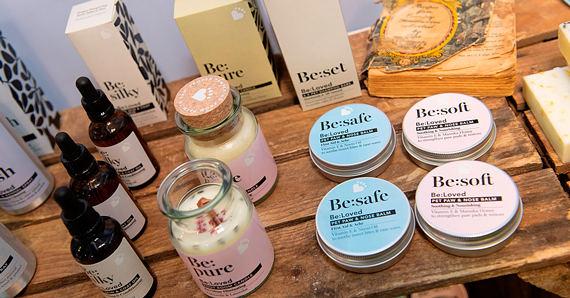 The Be:Loved range of eco grooming products it high on Vital's Top 10 of eco products
Vital Pet Group says its focus this month is on kindness and reaching out a helping hand throughout the supply chain.
The wholesaler has already made a start with its Lifeline Fund, which offers extended credit terms to retailers as they cope with the business implications of covid-19. Vital says the move is in response to the loyalty shown by its customers over the years and is its way to returning that loyalty.
Throughout April, the company will be shining a light on the range of eco-friendly products, local sourcing and companies with a track record of corporate responsibility.
Vital recently produced its first Top 10 list of eco products that it says are 'must-haves' for pet product retailers. They range from products that reduce wastage to those that give back to communities or don't have a negative impact on the environment.
Heather McManus, sales and marketing director at Vital, says many have remarked upon how quickly wildlife habitats have been restored as more people stay indoors and pollution is reduced during this pandemic.
FURTHER GROWTH

She notes that for many people this will 'really bring home the impact of our day-to-day activity on the planet' and she anticipates further growth in this category of products.
The company will also be sharing ideas on its social platforms and encouraging retailers to do the same to help the trade get through this difficult time. Heather says everyone needs to support each other.
"This isn't the time to capitalise on anyone else's misfortune," she said. "So many small businesses are under threat and many people are afraid for their lives but still feeling that they have to expose themselves to risk in order to make a living.
"If we share helpful ideas or ways to respond, in the greater scheme of things, that's the right thing to do."
Vital is also extending an invitation to brands that would like to collaborate to fill portfolio gaps or that need structured support for future product launches.
DIFFICULT TIME

Heather says that it's also a very difficult time for suppliers.
"We're very much about partnering with brands. We have some innovative solutions for those who are having issues with transport, distribution or other issues, as well as playing an active role in supporting them with future products that work for the trade."
Retailers can follow Vital on its social media platforms for the latest updates and are encouraged to share their own stories and ideas.
Retailers can find out how to access the Lifeline Fund here www.vitalpets.co.uk/news-2.
Vital's Top 10 eco products
1. Edgard Cooper – biodegradable packaging
2. Be:Loved – eco grooming, no plastics
3. Mayfield woodbased litter – 100% natural
4. Elkwood Antlers – natural fall products
5. Simply Fido – organic cotton dog toys
6. Beeztees Fresh Market – ensuring all animal parts are used – no wastage
7. Fibrecycle – Recycled paper cat litter & bedding
8. Almo HFC – Profits go to sustainability projects
9. Beco – biodegradable poo bags
10. Enviro-works – environmentally friendly cleaning products.