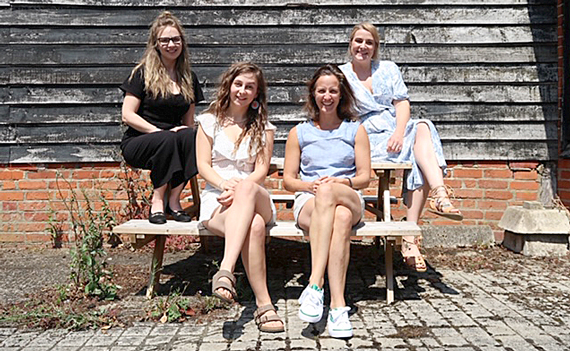 The Podium Pet Products team from left to right: Amelia, Annabel, Carina & Helen
Supplier of Dog Rocks and the new 100% natural Be:Loved pet care range Podium Pet Products is continuing its ongoing expansion plans with the appointment of two new team members.
Joining the Podium family are Helen Reid and Annabel Britton, who will both be responsible for customer service and operational development of the brands.
Helen joins after eight years in the fashion industry, bringing with her a wealth of account management skills, equipping her as she takes on responsibility for trade orders from UK, European and US customers.
Annabel, an ex-competition figure skater, will be showcasing some of this competitive spirit as she co-ordinates the marketing collateral and social media content for both the Dog Rocks and Be:Loved brands. She will also be assisting with order processing and stock management, as well as working alongside Helen to liaise with customers, suppliers, warehouses and logistic partners to ensure a smooth-running supply chain.
INVESTING
Podium Pet Products' Carina Evans said: "We're really investing in our brands and the appointment of our new team members is testament to this.
"Both Helen and Annabel have superb experience that will benefit their roles, but they also have a real passion for the products and our brands. I've no doubt that this passion will translate into the work that they do and help to position our brands as the market leaders; leaders that care about pets, pet parents and the products they use within their daily lives."
Since their launch nearly 20 years ago, Dog Rocks – which are placed in a dog's drinking water ¬- have become the go-to solution for millions of pet-owners, who want a natural, chemical-free solution to lawn damage caused by dog wee.
Continuing the theme for natural products is the newly-launched Be:Loved range of pet care products, including shampoo bars, nose and paw balms, skin & coat oil, and room fragrances.