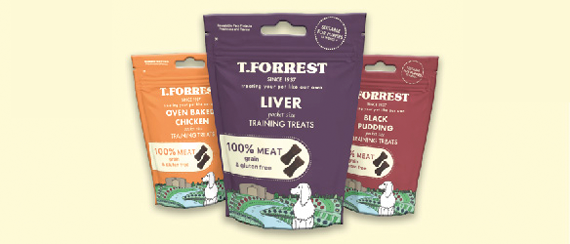 T. Forrest has launched a 100% meat training treat range, featuring three recipes – Oven Baked Chicken, Black Pudding and Liver.
The Lancashire manufacturer said: "Our training treat range is one of a few training treats on the market that are 100% meat. Their size, high aroma and low calorie value is perfect for training. We are very excited for the launch as they will offer dog owners the opportunity to treat their dogs while enhancing their training and behaviour."
The treats will be available in 100g re-sealable and pocket-sized pouches, designed to lock in the freshness and easy to carry.
Sales director Wallbank, sales director, said: "It's an exciting time at T. Forrest. This year sees a number of innovations that appeal to the pet care industry and diversify ranges for retailers. We have been conducting some market research with some of our retailers and the new training treats are proving to be extremely popular."
The new products are made with natural ingredients with no artificial additives or preservatives and are available from this month.