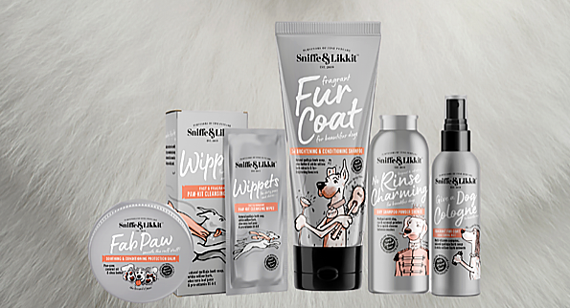 Start-up company Sniffe & Likkit has launched a range of dog grooming products designed to capitalise on the on-going humanisation of pets and the pet care category's continued growth.
The range has already scooped the Health & Grooming Product of the Year at the 2020 Awards from PetQuip, the international trade association of pet equipment manufacturers.
Set up by two Soap & Glory veterans, the range takes inspiration from the human fine fragrance and personal care categories. This includes the notion of 'masstige' – prestige quality at affordable prices – which is a major growth driver in beauty and men's grooming, but not yet seen in pet care.
The firm says wellbeing is at its heart, with luxurious shampoos, fragrances, balms and wipes based on aromatherapy oils with a focus on natural ingredients specially formulated to be pH-balanced for dogs' skin.
Sniffe & Likkit's signature scent Woodland Wonderfur was created by pet aromatherapists using high-grade essential oils renowned for their calming and soothing qualities. It contains a blend of cedarwood, vetiver, petitgrain, juniper berry and ho leaf and the scent imparts a woodland aroma ('fougere' in fine fragrance circles) that appeals to both hounds and humans. It also helps to calm dogs when washing and grooming.
Working alongside this scent is what the firm calls a 'powerhouse blend' of actives and botanicals including organic aloe vera leaf juice, quillaja soap bark and white willow bark extracts. These are formulated to deliver optimum fur and skin care benefits.
Products include No Rinse Charming, a dry shampoo and Give A Dog Cologne, a fine fragrance with essential oils, conditioning agents and botanicals designed to refresh fur fast.
Completing the launch line-up are Fab Paw, a naturally conditioning and soothing protection balm, Fragrant Fur Coat, a three-in-one brightening and conditioning shampoo and Wippets, individually packed cleansing wipes designed to grab and go. RRP prices are in the £7-£14 range.
Lee Sargent, MD at Sniffe & Likkit, said: "We've put ourselves at the heart of the British pet-boom to really unleash the opportunity in the premium pet care category. With 67% of pet parents willing to pay more for better quality, more natural products (Source: Euromonitor, 2018), our range appeals to those who treat their dog like one of the family. And for them, we bring an innovative, fresh take on familiar product categories."
Sniffe & Likkit products are vegan-friendly and presented in reusable and recyclable aluminium packaging. The range is available via Pedigree Wholesale.