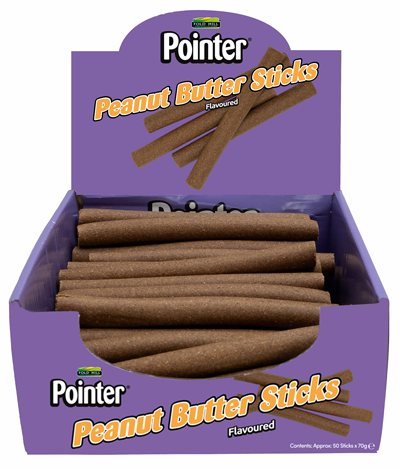 Pointer Pet Products, the Lincolnshire-based pet food manufacturer with more than 50 years of biscuit expertise, has introduced a Peanut Butter Flavoured Stick to its treat range.
The Lincolnshire brand's oven-baked Peanut Butter Flavoured Paw reached the final of the PetQuip Awards at PATS Telford in the Product of the Year category and rapidly became a best-seller with pet shops and customers – so Pointer has released its second peanut butter flavoured treat.
Andrew Whyte, head of pet specialty at Pointer, said: "Pointer is known for leading creativity in shape and flavour, so launching a brand new peanut butter flavoured treat was an exciting development for our treats selection. We know that peanut butter is very popular with dogs, so it's important for our pet retailers to have a good selection of variants in this flavour."
Each box contains about 50 of the treat sticks.