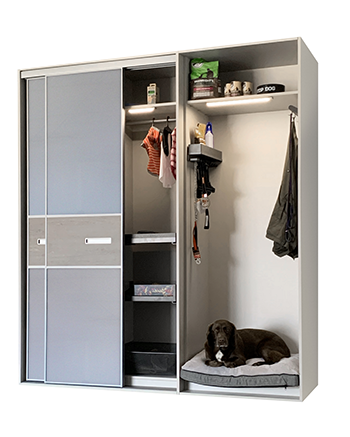 A fitted wardrobe company has introduced the latest version of its product – especially for dogs.
The Pawdrobe has been developed by Spaceslide to cater for the most pampered of pets, especially as it comes in at a price tag of £990.
The sliding-door wardrobe features a collar hanger, hanging rails, accessory trays and even a built-in dog bed.
The company says the new Pawrobe solves the problem of where to put fashionable pets' 'ever-expanding' collection of collars, coats and leads.
One section of the wardrobe is open for easy access and features a dog bed platform for your pet's favourite mattress.
The hidden storage area sits behind grey glass and oak panelled sliding doors, where there are hanging rails and accessories trays. A pull-out rail provides space for towels and there are storage baskets for toys.
Owners aren't completely left out either, with internal hooks for coats, umbrellas and leads.
Alex Simmons, product development manager at Spaceslide, said: "With a huge market for pet clothing and accessories in the UK, we have designed The Pawdrobe to help pet owners bring some order to both their homes and their dog's wardrobe.
"Drawing on over 40 years' experience in designing and fitting wardrobes for humans, this is our first venture into the canine market. We're proud of the practical, high-spec Pawdrobe we have created, which allows owners to treat their pets like the VIPs they are."