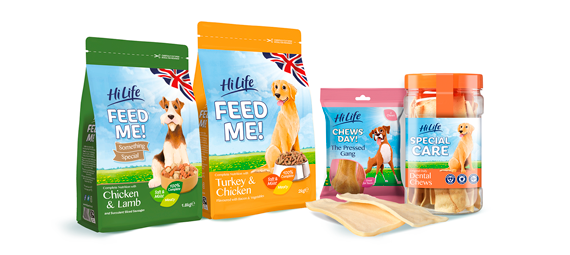 Town & Country Petfoods is introducing a new look across its HiLife Feed Me! dry complete range, HiLife Special Care Daily Dental Chews and HiLife Chews Day! range for adult dogs.
The designs are colourful for maximum shelf appeal and feature illustrations of a 'smiling' Labrador, a fluffy brown and white terrier and a playful boxer, all enjoying life to the full.
Suzy Broughton, product manager, explained: "It really came about because of the success of our HiLife it's only natural range. Nearly two years ago we updated its packaging with our cat and dog illustrations and sales have continued to rise with our natural pet food up 30% year on year.
"Building on this success, we decided to do the same for other HiLife ranges. We understand it is a careful balance with established products like HiLife Feed Me! and it was important to deliver an instantly recognisable design to reassure existing customers there is no recipe change.
"We are delighted with the results. The new designs will definitely increase category stand-out and continuity across the ranges will make it easy for shoppers to find HiLife products instore and online."
The new HiLife pack designs are being rolled out over the coming months.
Town & Country Petfoods – now part of Assisi Pet Care – owns the HiLife brand of pet food for dogs and cats. The British company is based in Melton Mowbray and reached a retail sales value of more than £40m  last year.