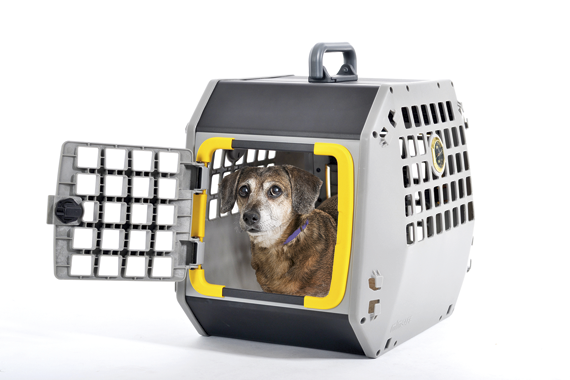 The 'world's safest' pet carrier is now available in the UK and will be sold through pet product outlets and specialist on-line retailers.
The carrier is designed, developed and tested by one of Sweden's leading high-technology ISO-certified companies, which has been providing pet-related safety products and transportation solutions to car manufacturers for more than 30 years.
mimSAFE UK is the country's sole distributor of the new pet carrier, which is available in two sizes for small pet transportation.  mimSAFE Care 2 is designed for pets up to about 5kgs in weight and mimSAFE Care 4 for pets up to about 9kgs.
The carriers have been crash-tested at RICE Technical Research Institute, in Sweden, to ECC R44 Child Seat Frontal Test and are manufactured to ISO 9001:2015. They are crush proof and carry a manufacturer's lifetime guarantee.
"The test and safety statistics for this type of product are the best in the world, so will provide owners with complete peace of mind when transporting a pet," a spokesman said. "mimSAFE pet carriers are also stylish, they are beautifully designed and engineered to a high specification that you would expect from a Swedish manufacturer.
"As most retailers know, it is illegal in the UK to drive with an animal loose in the car but until now consumer choice of pet carriers has been limited to a metal crate, usually placed in the rear cargo area or boot, or back seat harness restraints. Neither option can claim the level of safety of the mimSAFE Care, which is the highest in the world."
Other features of the carrier are its lightweight frame, with all other parts made from fully recyclable non-toxic materials. Splinter-proof nylon is used throughout, with reinforced armoured doors for added security.
The Care 2 and Care 4 pet carrier offers pet-related retailers the opportunity to also sell added-value accessories and attract new customers. mimSAFE UK offers a drop-shipping service and is planning a consumer promotion campaign.
mimSAFE Care 2 and mimSAFE Care 4 will be available from mimSAFE UK from  January 21.