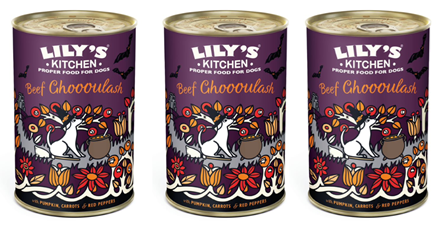 Lily's Kitchen has launched its newest recipe for dogs, Beef Goulash, with a limited-edition Beef Ghoooulash tin, just in time for Halloween.
Inspired by the classic Hungarian dish, Beef Ghoooulash is bursting with autumnal flavours, such as beef, spinach, red peppers and seasonal pumpkins.
Lily's Kitchen has even chucked in some carrots so that hounds can see in the dark: crucial for spotting monsters lurking in the shadows.
The company says the meal is ideal for pet parents to feed to their four-legged friends before hitting the streets in search of toffee apples and dog trick or treats.
Beef Ghoooulash is nutritionally complete and made with fresh ingredients alongside natural botanicals and herbs.