Penny & Pepe has launched a full range of ready-grown, fresh, living products to 'bring the outside in' for the growing numbers of indoor pets in the UK.
The range includes:
* Pet grass – made from a mixture of wheat, oats and barley, Penny & Pepe pet grass is suitable for a range of animals from cats, dogs and small animals to reptiles and birds
* Living cat nip – cat nips produce the chemical nepetalactone, which acts as a natural mood enhancer that some cats go crazy for. Fresh, growing plants have a stronger aroma than dried catnip
* Fresh living greens – Dandelion & Chicory Mix and Chicory & Chard Mix. A natural food source to supplement diets and treat pets. Fresh greens are a natural source of fibre, Vitamin A, Vitamin C and Calcium.
All the products are grown in the UK and the pack sleeve is recyclable with carrier bags.
The Penny & Pepe living product range is available to order for drop-shipping direct to store for trade customers.
Products are available in cases of four delivered direct to store:
* 4x pet grass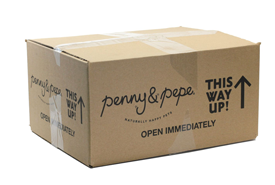 * 4 x cat nip
* 4 x fresh living greens Dandelion & Chicory
* 4 x fresh living greens Chicory & Chard
* Cat Mixed case: x 2 pet grass, x 2 cat nip
* Small animal mixed case: x 2 Dandelion & Chicory, x 2 Chicory & Chard.
The product RRP is £4.99 and a branded, shelf-ready unit is available from Penny & Pepe on request.