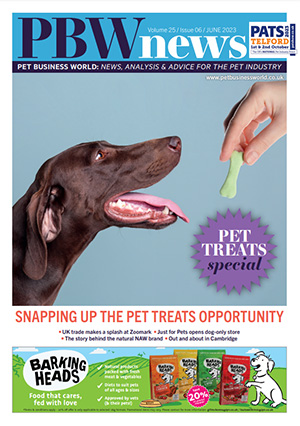 The June 2023 issue is now available online! Packed full of news, features and comments, including:
GROWTH CONTINUES: Pets at Home achieves record sales with growth in commodity sectors.
TAX MATTERS: Dismay as Amazon's main UK business pays no corporation tax.
ON THE MAP: Welsh retailer Petplace relaunches 25,000sq ft flagship site.
NEWS ANALYSIS: Highlights from the Zoomark International trade show in Bologna, Italy.
PET TREATS SPECIAL: In a special feature, we look at how manufacturers and suppliers have been active in the pet treats category to create new ranges of products for the trade.
10 QUESTIONS: Simon Brown of Sniffers Pet Care explains how his company has changed direction to create a new natural treats brand.
SHOPPING AROUND: Our mystery shopping team checks out stores in Cambridge.
SHOP TALK: A glimpse inside the new Just for Pets store that is aimed purely at dogs.
AQUATICS: A round-up of news from the tropical fish sector.
PRODUCT NEWS: Some of the best new products on the market to catch our eye this month.
WEIRD & WONDERFUL: A selection of unusual and off-the-wall stories from the animal kingdom.
BEHIND THE COUNTER: More tales of the day-to-day life of an independent retailer.