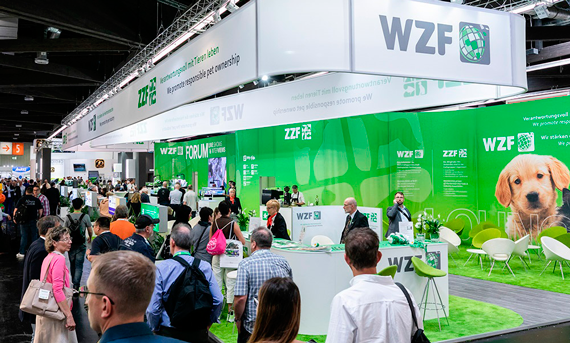 PetQuip has welcomed news that the organisers of the international pet trade exhibitions Interzoo and Zoomark International have worked together to find mutually agreeable dates for their next shows.
Interzoo, whose original date of May 19-22 2020 was postponed because of the coronavirus pandemic, has now been rescheduled for June 2021, with Zoomark International moving to 2022 to accommodate the change.
The organisers – WZF (Interzoo) and BolognaFiere (Zoomark) – said in a joint statement that, given the severity of the global crisis and in the hope of finding a solution that serves the interest of the industry, they had rescheduled each of their events to the respectively following year.
They added: "Both organisations hope that by choosing such profound measures in difficult times they can help minimise the economic damage suffered by the industry."
Interzoo will now be held in Nuremburg, Germany, on June 1-4, 2021, and Zoomark International in Bologna, Italy, on May 9-12, 2022. Zoomark had orgininally been planned for 10-13 May 2021.
Amanda Sizer Barrett, director general of PetQuip, said: "We are pleased that the organisers of the Zoomark and Interzoo events have worked together to provide a pragmatic and positive solution for the pet product trade.
"We are looking forward to supporting a strong UK exhibitor group at Interzoo on 1-4 June in 2021 and to doing the same at Zoomark on 9-12 May the following year.
"In addition, in order to promote and support UK exhibitors over the next few months, we will be delivering an enhanced international PR and promotional package for the whole UK group, including information on companies who can no longer attend the rescheduled event. This will give British companies an extra opportunity to put their brand and products in front of key pet product buyers, distributors and the trade press internationally.
"PetQuip will then collate additional information before the rescheduled show for the whole British group, so that an updated press release and an HTML UK group show preview can be sent out to major pet product buyers on our exclusive international database in advance of the new show dates.
"We look forward to supporting UK firms at this challenging time and to delivering information, advice and new sales opportunities to them over the next 12 months."