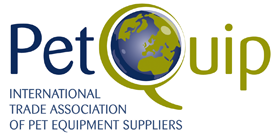 PetQuip is already planning for the rescheduled Interzoo, which will now take place in Nuremberg, Germany, on June 1-4 2021.
The international pet trade exhibition was due to take place on 19-22 May this year but it was postponed because of the coronavirus pandemic.
Now a new date has been confirmed, UK companies still intending to exhibit can work on their plans for the show. For eligible SMEs taking part there should be the added advantage of Department for International Trade grants to help offset the cost of a stand. PetQuip has put in a request for grants to be made available for the new show dates and it is hoped that at least £1,000 per eligible exhibitor will be available.
When the decision to postpone Interzoo was made, PetQuip put together a package of additional publicity and support to ensure PetQuip's UK group of Interzoo 2020 brands and product introductions were promoted to buyers through key international media..
An HTML UK group brochure for PetQuip's Interzoo 2020 exhibitors is being compiled and this will be sent out to buyers selected from the association's exclusive international buyer database in the coming weeks. By carrying out these activities PetQuip will be able to promote exhibitors' brands and products to a wide range of international buyers who would have been visiting the PetQuip information stand and the UK group at this year's event.
PetQuip starts the promotion process here by highlighting companies and products that were due to be present at Interzoo on the original show date this year.
PetQuip is also holding a series of virtual Meet the International Buyer events, bringing buyers and suppliers together to create new business opportunities for both via video conference calls.
Businesses and brands already booed to exhibit at Interzoo include Akela Pet Foods, Blumen International – GET OFF, Brightwell & Continuum, Broadreach Nature, Bronte Glen, Burgess Pet Care, Cambrian Pet Foods, Canagan Pet Foods, Canine & Co = Dog Jumpers, ChickenGuard, Clydach Farm, Denzel's, Dicky Bag, Eden Holistic Pet Foods, Forthglade Natural Pet Food, Frozzys, Harringtons Just6, Henry Wag, HOWND, JR Pet Products, JR Pet Products, Law Print & Packaging Management, Little BigPaw, Monkfield Nutrition, Naturediet Pet Foods, Naturo Petfoods, Nutriment, PATS Sandown 2021 and Telford 2021, AQUA 2021, Paw Naturel, Pet Rebellion, Pet Remedy, Petlife, Podium Pet Products, Ruffwear, Scrumbles, Sense6, Simply2 Pet Products – ProFleece, Sir Woofchester's, Slurps, Symply Pet Foods, TastyBone, The Barking Bakery, Tribal, Vetfleece, Vitalin – The Natural Choice, Waterlife, Webbox, YAKERS Himalayan Dog Chews, Yora Pet Foods and Zoon.
For further information on exhibiting at the 2021 show, visit www.petquip.com