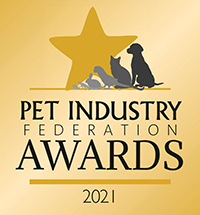 The 2021 Pet Industry Federation Awards are now open for entries through the Pet Industry Federation website – www.petfederation.co.uk
The PIF Awards celebrate success across a wide range of products, services, businesses and individuals and provide a platform to recognise excellence and innovation in the industry. After such a turbulent year, the opportunity to highlight the outstanding achievements made throughout the pandemic, is more important than ever, the organisers say.
Pet businesses are invited to submit a nomination across the 16 categories available this year:
1. Product Innovation Awards – Dog, Cat, Reptile/Fish, Small Mammal/Bird
2. Manufacturer of the Year
3. Wholesaler or Supplier of the Year
4. New Business of the Year
5. Grooming Business of the Year
6. Kennel of the Year
7. Cattery of the Year
8. Pet Service Business of the Year
9. Home Boarding Business of the Year
10. Dog Daycare Business of the Year
11. Online Business of the Year
12. Export Business Award
13. Sustainability Award
14. Pet Retail Chain of the Year
15. Independent Retailer of the Year
16. Special Achievement Awards
Those interested in applying should check the list of criteria, which are available at www.petfederation.co.uk and cover the areas that judges will be looking for in the entries.
Entry are free but must be submitted to [email protected] by Friday, July 16.
The winners will be presented with their awards at a black-tie dinner at Whittlebury Hall Hotel, Northamptonshire on the evening of Thursday, October 21.
Sponsorship opportunities will be available for the Award categories.