Pet product companies have been impressing buyers at Paw at Glee, which returned to the NEC Birmingham yesterday.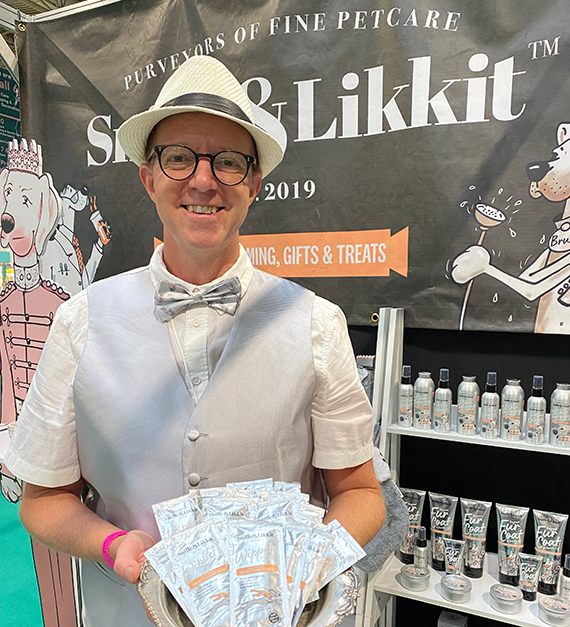 One company making its mark – or should that be bark – at the three-day exhibition was Sniffe & Lickitt. The firm was set up at the end of 2020 by Lee Sargent, to produce a range of grooming products for dogs all based on natural aromatherapy scents.
With a background in home and beauty care, Lee felt there was a gap in the market for attractively packaged natural products for dogs that sit well on the shelf rather than being hidden away.  The scents are all chosen from those that are found to be relaxing or stimulating for dogs such as juniper.
As well as the grooming products there were a range of accessories including the Glove my Dog bamboo towel, dog grooming gift kits and starter packs. The natural philosophy was carried through to the dog biscuits, which are handmade in Devon. In their Home Barking Kits, nutritional ingredients like chicken liver and sweet potato are joined by chia seeds, coconut and turmeric – all good for helping with coat and condition.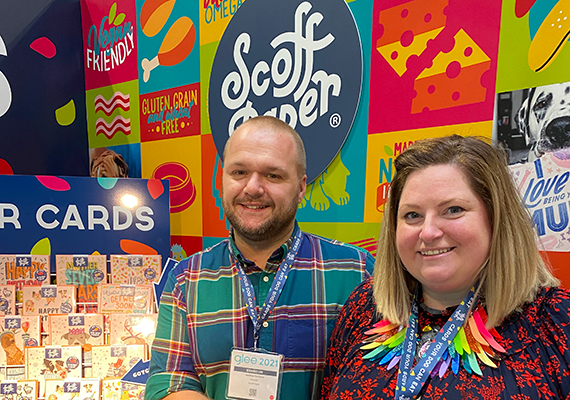 Scoff Paper has come up with the first edible rawhide-free greetings card for dogs. Founded only 12 months ago by Matthew Fairhurst and Gemma Connolly, the couple were inspired when one of the guide dogs that they board decided to take a chunk out of a regular greetings card.
Made from potato starch with edible ink designs the cards are vegan friendly as well as being a big hit with our four-legged friends. Originally the focus was just on birthday cards but now the range has expanded to cover every occasion. The range has developed from simply birthday cards to something for every occasion.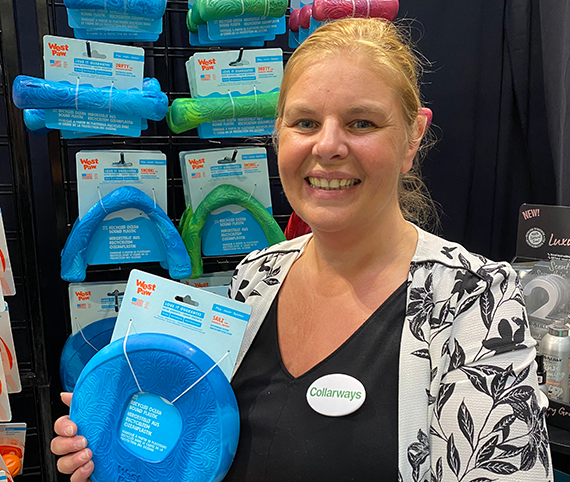 When it comes to play time, Collarways had it sorted with its West Paw dogs toys. Made from sustainable recyclable plastic, including reclaimed ocean-bound plastic (Seaflex), the range includes the Drifty (a dishwasher friendly bone), the Saliz (a durable and light frisbee) and the Snorkl (for dogs who like bones, boomerangs and tug-of-war.