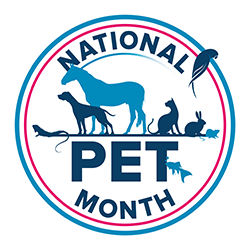 Pets and People: Caring For Each Other is the theme for this year's National Pet Month (April 1-May 3).
As we emerge from a year of lockdowns, the organisers say it is time to celebrate life with our pets, talk about the importance of responsible pet ownership and – this year in particular – recognise the positive impact pets have on our physical and mental health.
Many people have welcomed a new pet into their home over the past year or have had to say goodbye to a beloved pet, while others have become first time pet owners.
Pet charities and rescues have had their work and services tested like never before.
Veterinary practices have had to adapt to changes in the way they work while continuing to care for sick and injured pets around the clock, often under intense pressure.
"And, for these reasons, we applaud every responsible pet owner and amazing vet and pet professional for their devotion to animal care and welfare."
CHANGES
Through all this, National Pet Month has been undergoing its own changes.
Previously a registered charity, it has been restructured as an educational awareness community for pet fans and owners.
The UK #NationalPetMonth campaign – a focal point for pet fans across the country – will still run from April to May every year.
Michael Bellingham, NPM spokesperson and chief executive of PFMA (Pet Food Manufacturers' Association, explained: "This means we can dedicate all our energy to education, which is where our passion and expertise lies.
"We will continue to spread important messages around responsible pet ownership and how to keep our companion animals happy and healthy all year round.
"We'll also bring you inspiring and fun pet stories through our social channels and website, plus lots of advice and support from our vet and pet professional colleagues.
"Making these changes enables us to encourage our amazing community of pet lovers, to help spread the message on responsible pet ownership and continue to raise vital funds for their favourite UK pet welfare charities and organisations.
These are difficult times, and these charities need our support now more than ever."