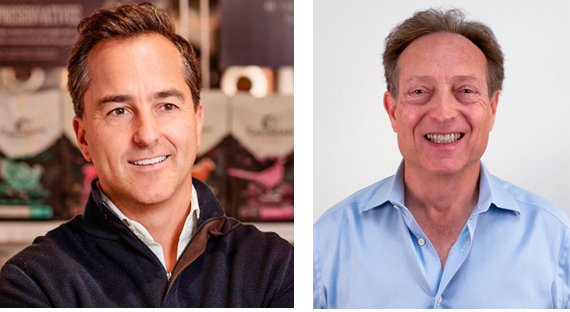 Dean Richmond (left), Pets Corner (UK), chief executive, Michael Levy (right), Petfood Express (USA), chief executive
The Pet Industry Federation has revealed the speaker line-up for one of its live discussion panel webinars taking place at Virtual Petindex at 3pm on Tuesday, March 16.
Headlined 'Exploring the Differences in Pet Retailing Across the World', this timely 'round-table' discussion will set out to explore the different experiences in retailing that each of the participants encounters, from consumers and pricing, to product offering and the challenges faced by each retailer, such as subscriptions and 'on-line' pet product supply.
Taking part are:
*. Nigel Baker, Chair – Pet Industry Federation, chief executive
*. Michael Levy – Petfood Express (USA), chief executive
*. Dean Richmond – Pets Corner (UK), chief executive
*. Phil Jones – Dubai Pet Group, former chief executive
*. Patrick Bontenakels – Fressnapf GmbH (Hungary), operations officer
*. Fredrik Bjork – AB Dogman (Sweden), head of retail.
This discussion panel is one of four live 'round-table' webinars taking place over the course of March 16-17 as part of the Pet Industry Federation's Virtual Petindex show, the UK's virtual pet trade show.
The webinars are all free to attend, but registration is required in advance in order for visitors to receive their login details to access the online show once it is has begun.
Virtual Petindex (March 16-30) will engage pet industry exhibitors and visitors from all over the world in one virtual venue. It offers visitors the chance to browse trade stands, hunt for new products in the New Product Showcase and watch a range of webinars, delivered by industry experts on topics that have been specifically targeted at pet businesses.
Registration and attendance at Virtual Petindex are both free at vpi.vfairs.com