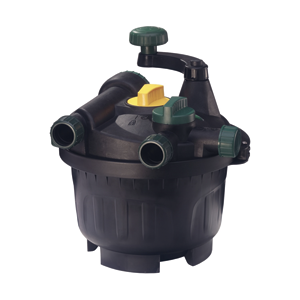 Blagdon, a leading water garden product company, has launched a foam-free pressurised pond filtration system.
Development manager Andrew Paxton said: "As a pond and fishkeeper myself, I know that keeping a beautiful pond can be hard work with the wrong tools. I knew we could make the experience better and push the industry standard, so we created a considered design, tackling pond problems consumers have been struggling with for decades.
"I've been working on and developing the Clean Pond Machine during the past 10 years and it's a product that has had every element designed with pond keepers' frustrations and struggles in mind.
"As a standard filter alone can't tackle blanketweed and sludge effectively, our concept includes a filter and dosing pods as a complete system. We can only get so far with biological and mechanical methods, so I knew we needed to develop something that closed the nutrient loop, and balanced it, to deliver a consistently healthy pond. Our Clean Pond Machine with dosing Pods system was designed specifically to address this previously unsolved problem.
"I also wanted to create a filter that removed a lot of the manual labour involved with pond cleaning and that improves people's relationships with their ponds year-round. I continually seek hassle-free solutions for pond keepers like myself, so we can all free up more time just sit back and enjoy our gardens."
The Clean Pond Machine and Pods system offers ease of maintenance and deals with green water, brown water, blanketweed and sludge. It also prevents the age-old issues that come with pond-keeping including frequent and messy cleaning routines, blocked, clogged filters, soggy, sludgy foams, green water and ineffective water cleaning, all resulting in a cloudy pond.
Clean Pond Machine has four sizes, depending on pond size – 7000 (SSP: £199.99); 10,000 (£224.99); 13,000 (£249.99); and 16,000 (£279.99).