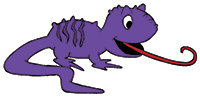 Scientists believe they may have discovered the smallest reptile on earth – a chameleon subspecies the size of a seed. The tiny lizards were discovered by an expedition team in Madagascar, according to a BBC News report.
The male Brookesia nana, or nano-chameleon, has a body of just 13.5mm, making it the smallest of about 11,500 known species of reptiles, according to the Bavarian State collection of Zoology in Munich.
In a blog post Dr Mark Scherz, one of the researchers involved in the discovery, called it 'a spectacular case of extreme miniaturisation'. Scientists have now recommended that the species should be listed as critically endangered to protect it and its habitat.