Reptile supplies wholesaler Peregrine Livefoods has expanded into the aquatics sector with the acquisition of sustainable fish food brand FishScience.
The Essex-based business, which claims to be the UK's largest reptile wholesaler, has stocked FishScience products for a number of years and exercised the opportunity to buy the business when company founder Dr David Pool announced his retirement.
Dr Pool created FishScience in October 2013 when he saw a necessity to create a more sustainable fish food brand. The products use black soldier fly larvae (Hermetia illucens) instead of fish meal in order to deliver an eco-friendly alternative, while also being palatable for the fish. The range now includes more than 70 products.
He said: "The use of insect meal in the formulation of FishScience foods, along with its focus on natural and sustainable ingredients, has been central to the brand's success.
"When Peregrine Livefoods expressed an interest in purchasing FishScience, it felt like a natural fit. The business focuses on insects, and it recognises the many opportunities that this ingredient offers. Added to this, Peregrine Livefoods is a young and dynamic company that has the resources and expertise to take the FishScience brand to the next level."
Chris Jones, managing director of Peregrine Livefoods added: "When David approached us, we jumped at the opportunity for two key reasons. Firstly, we have ambitions to expand our portfolio and market reach beyond reptiles and into the aquatic sector. Secondly, both FishScience and Peregrine Livefoods' foundations are built on the use of insects as part of our foods. This synergy allows for a myriad of opportunities in the future.
"Although many reptiles don't have sensible alternatives of food other than live insects, the aquatic market does have a range of possibilities. Many foods in the market use fishmeal, often derived through ocean trawled fish, which is incredibly damaging to the environment. We're excited at the possibility to utilise insects as an alternative protein source and reduce our impact on both the oceans and the planet. The nature of this business means we do not need to transport that protein source around the world, since we breed all our own insects on our farm here in Essex."
While retiring from full-time employment, Dr Pool will continue working on a consultancy basis with Peregrine Livefoods, which hopes to use his use his knowledge for the benefit of customers and end consumers, particularly as many reptile and amphibian owners now also keep fish in semi-aquatic enclosures.
Jones added: "At Peregrine we have a large team of experts who have a collective wealth of experience when it comes to insects and reptiles, but we're very limited in specialist aquatic knowledge. David's experience will be invaluable to assist Peregrine in pushing the brand and developing new products that allow FishScience to become a market-leading fish food brand."
Peregrine Livefoods is an employee-owned trust, meaning all 192 employees at the Harlow based company have a stake in the future success of the business.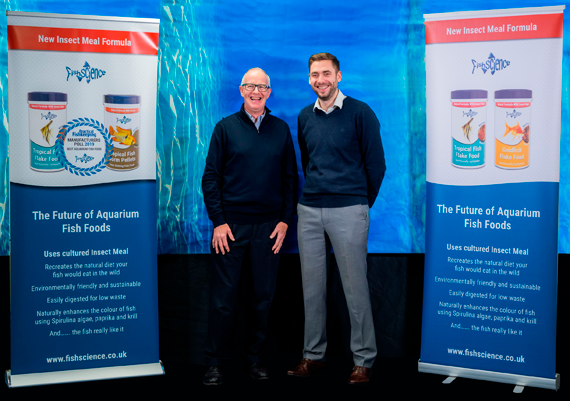 Left to right – Dr Dave Pool with Chris Jones following the acquisition