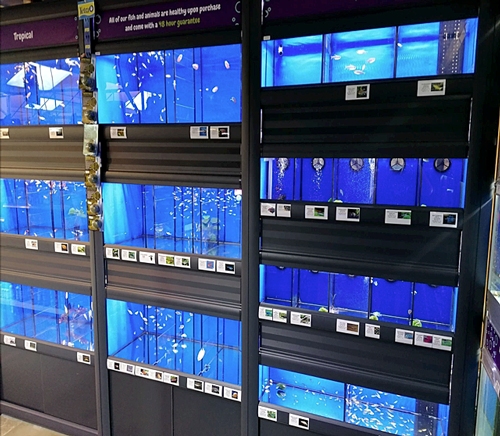 Shopfitting specialist Aquaja has installed four aquarium units in a garden centre, giving its tropical fish room a makeover.
Work at Berwick Garden Centre, Berwick Upon Tweed, took place in December and was designed to fit into its existing aquarium fish section. It was completed in time to allow the garden centre to maximise the busy sales period between Christmas and New Year.
Pet and aquatics manager Russell McRae said: "I like the finishing colour of the units. The LED lighting is really nice to set off the colour of the fish and I am really happy with the little nano tanks so that we can now stock a larger variety of betta, shrimps and L-number plecs."
In order to give the best effect, a rich blue background was used with a matt anthracite frame profile and fascia panels finish. Sump filtration with easy staff front access was put in to filter three levels of aquariums per unit. One unit had two middle tiers specifically for bettas and shrimps, with biological filtration per aquarium level with a simple spraybar return per partition.
The installation included high-quality LED lighting from HVP Aqua, consisting of 24W lights per level. Controlled by IP68-certified, stabilised LED drivers, these offer cost savings, using a unique colour spectrum of 12,000K (5W/1W).
Based in the Netherlands, Aquaja has more than 20 years of experience in customised shopfittings for pet and aquatic shops across Europe and the UK.