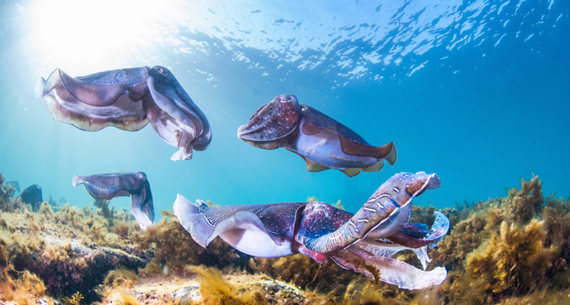 More than 100,000 Giant Australian cuttlefish are making their way to South Australia's Upper Spencer Gulf Marine Park for the annual breeding season.
Numbers reached 150,000 in 2018 and has grown so popular it has spawned its own celebration, CuttleFest, reports The Lead South Australia.
The cuttlefish gather along an 8km stretch of rocky reef at Point Lowly in the Spencer Gulf, about 20km east of Whyalla and almost 400km northwest of the South Australian capital Adelaide.
CuttleFest founder four Carl Charter said: "It's like a high definition TV, and it's actually more pixels than the best TVs we've got. They can change to all different colours of the rainbow within a heartbeat.
"They'll go from white to black to green or blue or red, depending on their mood and what they're thinking probably.
"They're like little aliens really. They've got three hearts and they pump green blood and they've got all these different colours they communicate with their skin. They could easily be aliens."
The event attracts tourists from across the globe, with more than 1,000 people estimated to dive with the cuttlefish over three weeks.